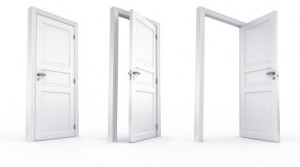 As this next page on the calendar has turned and I find myself in a new year, reflecting back has become less compelling.  Something shifted for me in the last year.  My perspective is more forward.
Doors that were ajar started opening and closing in turn and I found that focusing on what was opening was a far better use of my energy and time.  Some doors remain ajar but some were able to drift closed.
One of the lessons I learned is that we can't always wait for change (or growth as call it) to find us.  Even in this time of such overwhelming opportunity.  Sometimes we need to become the architect of the change, the growth we need.  After all, whatever we become, we are still our unique selves, more evolved, hopefully wiser.  But still ourselves.  I came across this quote today from Ellen Goodman that I found to be very on point:
"We spend January 1 walking through our lives, room by room, drawing up a list of work to be done, cracks to be patched. Maybe this year, to balance the list, we ought to walk through the rooms of our lives… not looking for flaws, but for potential."
So this is my quest as the calendar page falls on January 1, 2013.  I am visiting the rooms of my life looking for potential.  Looking for possibilities.  And the journey will continue.
As one of my own personal heroes Glennon Melton said in her post today on the Momastery blog –
"In three words I can sum up all I know about life. It goes on."  – Robert Frost
Life has gone on. And in the end, I have learned this: My peace is not dependent upon anyone else. Not anymore. My peace is God, and God is as close as my decision to sneak away for a moment and find quiet and find my breath and remember that the music is always louder than the crying.
It's gonna be a fierce 2013.
Indeed.