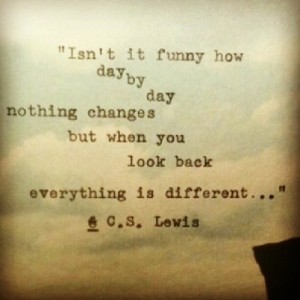 One of my favorite authors is C.S. Lewis.  Perhaps because of the stories.  Perhaps because of the imagery and imagination that is part of those stories. But mostly because of the message that is there and the fact that each person can take away such a different experience from the work.  Life is a bit like that.  We all experience the same things.  The same stories.  And yet our experience is very different.  Because we are different.
When I came across the graphic in today's post, it was one of those moments that startled me because the simplicity of the statement is what makes it compelling.  If we want something to change, we must change.  If we want to change, we must change how we see things.  As we grow in life and do that, the past begins to look quite different.  Things begin to make sense to us.  What changes?  Things that mattered – now they don't.  And other things that were discarded – they come back into focus.  What a wonderful thing it is to be able to give ourselves permission to change our philosophical views.  Even as we stay true to our values.
It is a wonderful moment when we move from success to significance as our objective.  Once we start focusing on who we are, we can create a vision that will take us through to the life we are meant to live.  Full of light and abundance for ourselves, and those we serve.