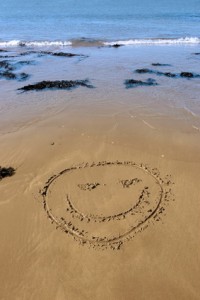 When you started out today, what were your hopes and plans for the day?  Did you define them?  Did you write them down?
All too often we focus on those "big" milestones and goals and we forget that every action we take, literally every thought that we think is part of what will bring us closer to our ideal life.  We can be guilty of neglecting our daily check-in to see if we're serving our vision and keeping the promises we've made to ourselves and others.
When we fail to achieve a goal, it is not usually from one single fault or incident.  The majority of the time, it is the result of small things we neglect over time that add up.  That is why it is important to create for ourselves our own way of keeping track of our journey and whether or not we are staying on course.
There are three essential elements in my coaching program's "Your Life in a Day"  framework.  First is to make sure you know what you are working toward in your life.  Second  is to plan and commit to only those activities that will move you in that direction.  Third, check-in and make sure you are staying consistent with your plan.
A key word in that sequence is "consistent".  We all know that we face surprises, disruptions, detours, you name it!  No matter how much we plan, we have to be ready for those.  But if we stay consistent and focused, we will find ways for transform those moments into opportunities for growth.  We can be adaptable without compromising our commitment to our vision.
Here are some tips to make each day your best day:
1-Plan the week before you plan your day.  Make sure you have "created" time and space for everything important.
2-Always check your day for balance.  Don't forget to create time and space not only for the "things" that are important but for the people in your life, too!  Remember that "making time" is the ultimate sign to anyone that they matter.  Your children, grand-children, parents, friends – you name it.
3-At the end of each day, re-affirm your plan for the next one.  (Start by reviewing that day's accomplishments and give yourself a pat on the back! )
4-For anything that did not happen (or get fully finished) get it re-scheduled.  You will avoid the "guilt" by re-committing. Simply re-schedule!
5-Stop for a moment and think about the sense of accomplishment you will have the next time you sit down to review your day. Bring that feeling front and center and savor it. It will give you a sense of purpose and excitement when you set out to begin the next day.  Remember: Anticipation is one of the best motivators for action!
How we live each day is a micro-version of how we live our life.  Isn't that exciting?  The possibilities are amazing!  It is so simple!  If you want to realize your best life, simply live your best days.  Start today.