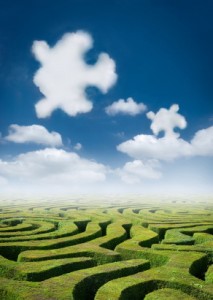 When we begin something new, one of the toughest things to figure out sometimes is where to start. This is particularly true when we are going through significant changes in our lives, especially if the change was not of our choosing.  And even if that does not mean it was by "chance" (and it doesn't!), it does mean the purpose may not be clear enough to give us a comfortable starting point.
If this is true for you, don't be discouraged.  You are not alone and this can be much simpler than you may think.  Because no matter what you are beginning, knowing where to start will be easy once you know where you are heading.  Even if you do not have a specific destination in mind yet, you can set the direction.  You can still set the sail and get underway.
The first step to help you do that is to shift your perspective and focus away from where you've been and look at where you are.  The second step is to then make some basic decisions about where you want to go. Think of it as the entrance and exit of a maze.  Where you are is the entrance.  Where you are headed is the exit.  The twists and turns in between are only important in that you need to always be moving in the right direction.  But when you know where the exit is, it's like having a mirror above you as you go through the maze, guiding your every step and turn.  That's the only thing you need to focus on.  The next step.  The next turn.  And before you know it, you have navigated through.
Here are a few of my favorite bits of wisdom from some other folks on the subject of change and where to to begin:
"With the possible exception of the equator, everything begins somewhere."  (C.S. Lewis)    Where you are:  That's where you begin.  Think literally on this point.
"First say to yourself what you would be; and then do what you have to do." (Epictetus)   How liberating!  No more on with the old.  It is on with the new!  What would you be?
"You can do anything you decide to do. You can act to change and control your life, the process is its own reward." (Amelia Earhart)  The key to empowering change is that you must first decide, then ACT!
Ready to get moving? Start where you are.  Decide what you would be.  Let that become the mirror for the maze until the map is clear.  An incredible journey awaits!