Today is Mother's Day.  A day to honor and remember those that gave birth to us and those that have nurtured us and loved us along the way.  It's also a reminder day.  A day for those of us that are Mothers to remember what a gift is to be a Mom.  I am very grateful for my own Mom.  What a shining example she has been and remains of unconditional love, wisdom and authentic goodness.  I am also grateful for the other Mom in my life, my Daughter.  She's a Mom as well and because of her, I not only have had the privilege of being a Mother but also of being a Nana to two incredible Grand-girls that have crystallized the meaning of legacy for me.  When we look back through the lens of today, history shifts.  That's the gift.
And so for today, the song I'm sharing  on this Sunday comes from Carrier Newcomer – Geodes.  At first glance, perhaps an odd choice.  Doesn't really seem to have anything to do with Moms, Daughters or Grand-girls.  And yet it does.  For me personally there's a meaning because my daughter was fascinated by geodes from a young age.  She passed on her fascination with all things "earth" to her first daughter and over the years she's gathered quite a collection of rocks, minerals and fossils.  And yes – there are some geodes thrown in over the years.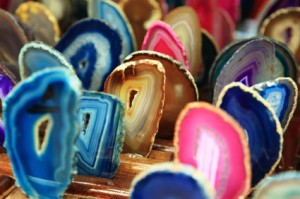 Why are these fascinating? Because when you look at them in their natural state, they are just a brownish round rock.  Nothing to suggest the miracle inside of them.  Could there be a better symbol for the truth of the experience of giving birth and raising the next legacies? I think not.  All of the mundane, routine things we do everyday are the rock.  But they are creating inside of our children and grandchildren and those that come from them beauty beyond compare. What a privilege to be a part of that journey.
Geodes.  For all my girls.