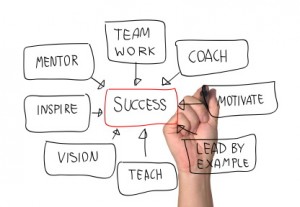 "The greatest good you can do for others is not just share your riches, but reveal to them their own."
-Benjamin Disraeli
When I look back over my life's path, there have been many contributors to my success.  I am deeply grateful for them all.   The ones that stand out are those that believed in me even before I believed in myself.  What an amazing and powerful gift we receive and can give simply by believing in someone's potential.
A teacher in junior high school that would not accept any work that was less than my absolute best (and somehow-she knew what that was..); a role model in my teenage years that showed me that girls could and should strive for success (I still have a crystal bell she gave me as a symbol that it was okay to celebrate achievement); a professor in college that humbled me with tears when my performance was strong; business managers that saw potential and were willing to mentor me in growth positions; staff members that fed my own inspiration with their brilliance and support; customers that inspired better performance by their own standards of excellence; coaches that have guided and chided along the way; and, the support of my inner circle family and friends that continue to stretch my vision for the future.
It is my desire to honor these light bearers by being one myself and to follow the wisdom of Mother Teresa to "…let no one ever come to you without leaving better and happier."
Albert Schweizer said it this way: "I don't know what your destiny will be, but one thing I know: the only ones among you who will be really happy are those who will have sought and found how to serve.".  I agree.