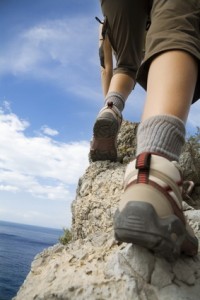 Yes, you read it correctly. Today's post is about steps: 1,740,468 of them! Sound overwhelming? If someone had told me on January 28th to take 1,740,468 steps of purpose I would certainly have thought it was a crazy notion. But on July 23rd, the number isn't overwhelming to me at all. In fact, it is a celebratory achievement.
Each of us face challenges in our lives. They come in all shapes and sizes with different degrees of stress attached to them. The ones that are the most daunting are the ones where we feel disempowered by them. The good news is we don't have to feel that way. We have another choice. There is always something we can do to respond to what is happening around us in a way that allows us to see the gift in it and to take positive, constructive action.
There are times when the best constructive action is massive. We need a bold change,  more leap than step. But other times, in fact most of the time, that is not the case. What we need in most cases is simple change. Simple steps. And over time, those simple steps add up to massive change. Today's post is about one of those kinds of changes.
On January 28th, I embarked on a new segment of my life journey. My focus in life shifted. In part because of external forces and the need to adjust the sails but in part because of internal growth that had my sights adjusting as well. That is also the day I began to walk. It wasn't a monumental accomplishment. After all, I'd been walking for close to 57 years. But this was different. These were steps of purpose. As of July 21st, steps of purpose have been part of my life for 24 weeks. In that time, I have seen massive change come from those daily steps. A step count that accumulated to 1,740,468 in 24 short weeks.
The first day, I could barely walk to the end of my driveway. But I did what I could.  For my personal best "walking" day over these past 24 weeks, my count was 14,494 steps! That would have seemed like climbing Mt. Everest on January 28th. Today, it sounds perfectly reasonable. My energy levels have sky-rocketed, my weight loss is consistent and safe for the first time in my life, and the boost to my self confidence from seeing real results creates renewable purpose to my steps everyday.  The overall value though has been far more than I would have anticipated.  Here is what steps of purpose look like to me now:
Being committed as a daily practice created a higher degree of self-awareness.  I had to really SEE my excuses for what they were: Excuses!
The daily time I have committed for walking created a space for reflection and thought. This resulted in a higher level of mental (and emotional) clarity.
My spiritual life has deepened from integrating my prayer life with my walks.  It has been wonderful to celebrate nature and to allow undistracted communion.
Sustainable energy, vitality, agility – all add up to a higher quality of life. Activities never attempted before don't seem daunting anymore. Each step brought new opportunities.
The power of discipline in my daily life is crystal clear and has permeated other areas of personal practices.
The personal confidence that has deepened is the most powerful gift.  I can do and be whatever or whomever I choose to do and be. It's just a matter of deciding and being willing to take the right steps.
When we look at our life, there are many opportunities to find steps of purpose beyond the literal ones I'm celebrating. But the principals are the same. For this level of achievement it takes incremental steps and progressive growth. Our most effective plans focus on a few small changes in our daily life that will, over time, produce amazing results. I started with my health. Your starting place may be different. But the plan is basically the same:
1) Identify the area of life where you want to see change
2) Define 1 or 2 changes you can make to your DAILY life that will support that change
3) Know your starting point
4) Track your progress
5) Check in at reasonable intervals to see how you're doing
6) Celebrate results and adjust where needed!
It's also important to set yourself up for success.  That means making sure you have the right tools & resources to stay on track.
For example, I invested in a Fitbit (pedometer/activity monitor) to help me track my steps and to serve as a mental "coach" to keep moving.  I also joined Fairly Fit Female, a great support community for women that are focused on the quality of their life while investing in their health. Accountability and community can serve all of us.
It's a simple approach.  Simple steps.  Amazing results.
What is it you want? What steps are you willing to take?
Let's get started!