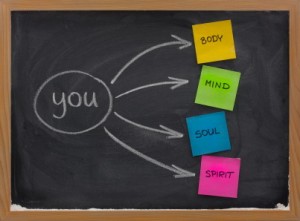 Part of any personal development plan is the prioritization of self-care.  Taking responsibility for our overall well-being physically is an important first step in being able to function at optimal levels beyond the physical.  Why? Because our mental, emotional and even spiritual "self" is either supported or diluted by our physical "self".
The reason it's important to focus first on the "prioritization" of this is because we all know what we need to do.  And on some level, we all want to do the right things.
In fact, studies show that living "well" is one of the most highly coveted aspirations we share.  Over 85% of us start each year with a resolution that deals with personal improvement in some area of our life.  38% of us have identified health and wellness specifically as where we want to improve.  Unfortunately, these resolutions are also the ones that carry the highest fail rates for success.
So when Nicole Bandes invited me to participate in a series of blog posts specific to self-care it was an easy "yes"!  The request was to provide a list of "10" essentials.  As you will see, mine doesn't conform to the typical "health & wellness" top ten list.  There's nothing there about achieving your ideal weight or telling you how many servings of vegetables you need.  I'll leave that kind of instruction to the experts.  The list I contributed is about the framework.  It's about you and your lifestyle.  Because it's the framework that is going to drive success that is sustainable.
Here is my list:
1)      Set the right goals (Get these right.. the rest will follow!)
2)      Recognize hype and don't fall for it (Enough said…)
3)      Choose your friends carefully (This one may be surprising..)
4)      Hydrate! Hydrate! Hydrate! (Enough said…)
5)      Know what you're consuming  (This isn't just about the food we eat…)
6)      Set yourself up for success with the right tools (Where we often fail…& the easiest to fix!)
7)      Log your key activities (Write it down…)
8)      Track your progress (Review the results..)
9)      Begin each day with an essential health activity (BEGIN – do it FIRST!)
10)   Renew your commitment to your health daily (This is about today. Yesterday is done and tomorrow is waiting.  This is today.)
To learn more,  you can read the entire post here and also check out some of the other articles and contributors.
After reading the article, think about which of these ten are where you are the most vulnerable.  Start there.  Make that your first essential health activity.  Renew that commitment daily.
And then create your own list.  I'd love to hear from you about what yours looks like! Be sure and check back as I share more information here about my own journey to my best self in an effort to come along side you in your own.
Always remember:  Live today like you want tomorrow to be.  And that's what it will be.