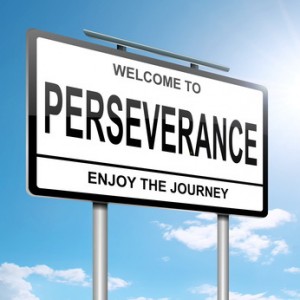 Patience has never been a virtue I have associated with myself. I'm also fairly certain my family and friends would agree with that assessment.  But tenacity and perseverance are among my strengths. My inner circle would also agree with that statement.  It may seem that those statements are in conflict but never the less, they are both true.
For me, the word patience brings forth an image of "waiting".  It does not seem to be an active state. But the word perseverance brings forth an image of continued, perhaps even relentless action.
Over time (with much practice..) I have learned that I can be patient waiting for results provided that I am working toward those results. No matter what miracle we may be actively seeking, it will be in our personal action that we find the "will" to stay the course and persevere.  There is truly nothing more exhausting than doing nothing.
The question then is how to keep ourselves inspired and motivated when our patience for the end result begins to wear thin. How do we persevere? Over many generations, proverbs have played a part in our internal (and external) dialogue to keep us going.
Here are five of my favorites:
One generation plants the trees; another gets the shade.
The man who removes a mountain begins by carrying away small stones.
It is only when the cold season comes that we know the pine and cypress to be evergreens.
From tiny acorns mighty oaks grow.
Little brooks make great rivers.
When you need that extra "push", what proverb, saying or mantra do you call to mind? I'd love to hear yours!