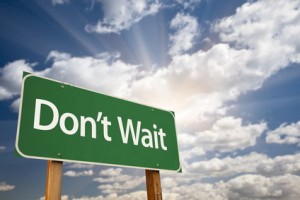 From time to time in social media someone will post a question for their group to answer that can be thought provoking for your own answer and inspirational when reading how others respond.  One of those came through at the beginning of 2014 and it was this:  Using only two words, what advice would you like to give to your younger self based on what you know now and your life experience?
The challenge is first choosing one thing.  And then the next challenge is how to express is in only two words.  Normally this would take quite a bit of introspection on my part and perhaps even some free writing but not this time.  I read the question and an immediate answer was there: Don't wait.  If I were to meet my younger self today, that would be my message to her.  Don't wait.
So many of us have or are "waiting" for something that we believe will complete us and give us that ultimate satisfaction in life. Perhaps money, time, an idea, a friend, a child – the list goes on because for each of us what the wait is about is whatever we believe we "need" but cannot have now.  I spent a lot of my life waiting.  Thinking that what was next would be "it" but in truth, what is now is where our joy is found. And all of those things we are waiting for are with us right now – just waiting on us.
If you've been with me awhile here on the blog, you know that Carrie Newcomer is one of my favorite artists.  For her upcoming album scheduled to release in April of this year she took a different approach.  She embraced her community and they embraced her back. She opened up the opportunity to be a part of the launch.  The goal of 500 participants was exceeded and over 750 people were able to be a part of this new album.  That means 750 people are part of bringing these wonderful life expressions and celebrations to the world.  She could have waited. But she didn't.  She shared the opportunity and as a result, it was given life.  And so on this first Sunday of the second month of 2014, let's follow her lead.  Don't wait.  Embrace it. Share it. Every little bit of it.

Every little bit of it
(Lyrics & Music Carrie Newcomer)
Just beyond my sight something that I cannot see
I've been circling around a thought that's been circling around me
Like the vapor of a song that is just out of ear shot
I thought I knew the question but I guess not
I swam against the tide I tripped on my own pride
So I'll try again today to get out of my own way
The face was always in the stone said Michelangelo
You just have to chip and clear to see what is already there
There it is in the apple, of every new notion
There it is in the scar healed over what was broken
In the branches, in the whispering, in the silence and the sighs
And the curious promise of limited time
It's true although it's hard – a shadow glides over the ridge
And one last beating heart tries with all its might to live
We sense but can't describe from the corner of our eye
Something nameless and abiding and so we keep transcribing
There it is just below the surface of things
In a flash of blue and the turning of wings
Drain the glass, drink it down
Every moment of this, every little bit of it
Every little bit.