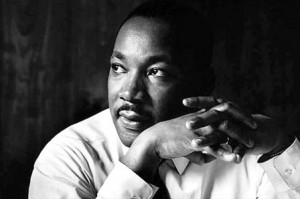 Martin Luther King Jr.
He was born in 1929.  He only lived to be 39.  And yet fewer lives have impacted the world to such an astounding degree.  At 34, he delivered a speech that is quoted everyday over 50 years later.
His time on earth ended tragically but his legacy lives on.  Because of his life, we are changed.  And because we are changed, our world is changed. This is the lesson we all need to embrace.  What determines our true impact on the generations to follow is going to be the example we set with our lives.  Because there is more learning and growing needed.
As we continue to learn from him and celebrate his legacy, here are ten lessons just as relevant and needed today as they were when he first brought them to the world.
In his words:
The quality, not the longevity, of one's life is what is important.
Faith is taking the first step even when you don't see the whole staircase.
The ultimate measure of a man is not where he stands in moments of comfort and convenience, but where he stands at times of challenge and controversy.
The function of education is to teach one to think intensively and to think critically… Intelligence plus character – that is the goal of true education.
Our lives begin to end the day we become silent about things that matter.
Life's most urgent question is: What are you doing for others?
That old law about 'an eye for an eye' leaves everybody blind. The time is always right to do the right thing.
The first question which the priest and the Levite asked was: "If I stop to help this man, what will happen to me?" But… the good Samaritan reversed the question: "If I do not stop to help this man, what will happen to him?"
Almost always, the creative dedicated minority has made the world better.
Occasionally in life there are those moments of unutterable fulfillment which cannot be completely explained by those symbols called words. Their meanings can only be articulated by the inaudible language of the heart.