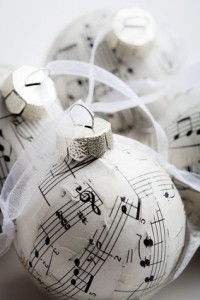 One of my favorite traditions of the holiday season is the music. There is nothing quite like it to spark the spirit of the season within us.
Whether you are the musician or the listener, music itself is a gift. So it is particularly fitting for the season of gifts that music is such an elemental part of how we celebrate. It renews us and inspires us to give in a powerful way.
Einstein offered these words: "If I were not a physicist, I would probably be a musician. I often think in music. I live my daydreams in music. I see my life in terms of music."  It is no mistake that for everything meaningful, there is music.
For the past two years, my first post of the holiday season included the video I am sharing again today. I love the music and the story. It is a story of gifts. I was introduced to Lindsey Sterling by my granddaughter and to Kuha'o Case by Lindsey with this video. A child prodigy with two loves, music and the sharing of it. Did he face challenges? Perhaps. He is blind.  But his love and determination persevered and we are blessed with the result.
A gift within the gift.  We experience the music, the artists and their artistry as the first gift. The second is the life lesson that when true gifts are given wing they bring freedom and joy.  Quite often we do not achieve in spite of limitations, we soar because of them.
In this season that is all about gifts and believing, let us first believe in ourselves and our gifts.
Live (believe) today like you want tomorrow to be. Live (believe) well!